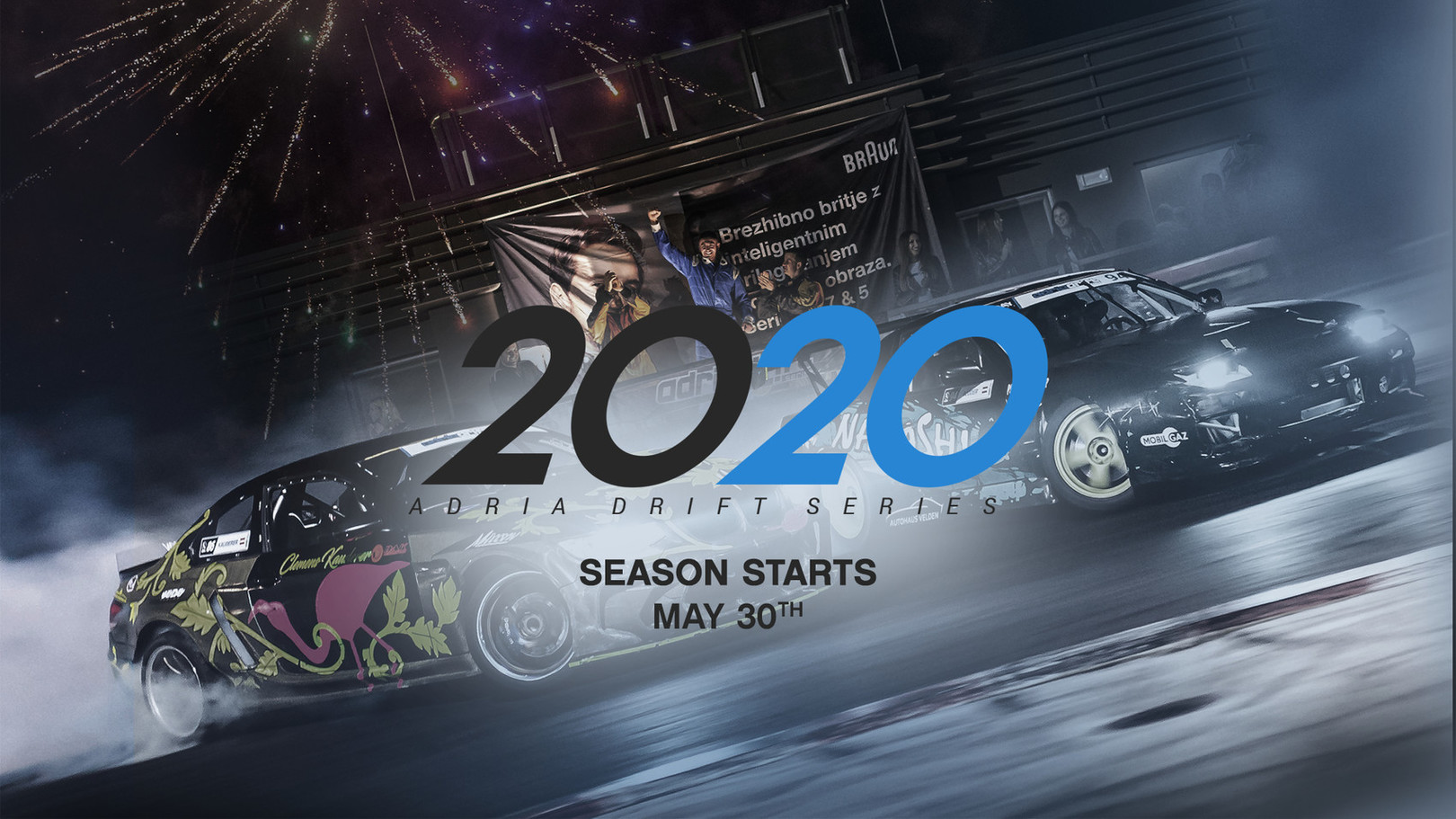 We have been busy preparing for the new season from the moment the last visitor left our 2019 season finale - Night Strike at Raceland Krško. As soon as the curtains drew on a successful season, we were already hatching new plans.
However, the first order of business was restructuring the team, responsible for bringing you the series. For those of you who have been living under a rock, Drey Nitrous, co-founder and the face of the Series, has resigned from his post as General Manager after the 2019 season. You can read his statement here.
Before passing the torch to Dejan Hercigonja and Klemen Grilc, Drey also promised not to stray too far away from the Series, so we're sure you'll still be able to catch him at our events. With the new management in place, or better put - old management in new positions, all efforts could now focus towards making the 2020 season the best one yet.
Being asked about 2020, the new General Manager Klemen Grilc replied: "We will build on the accomplishments the team has reached in the first 4 seasons of Adria Drift Series. We strive to bring drifting to the people, to do our part in helping the sport win more hearts across the region and the globe. Secondly, we strive to ensure our competitors fun, yet challenging events, and we promise to take care of their safety and enable them maximum exposure. Last but not least, we will nurture the relationships with our growing number of partners and sponsors and do our utmost to reach and exceed their expectations. Inevitably, with the changes made to the organizing team, there's bound to be some differences, but we hope they will be for the better."
THE CALENDAR
So, what's in store for us in 2020? According to the new GM: "2020 is a vital year for us. Due to drifting's increasing popularity, tectonic shifts have occurred in the recent years and it is of key importance to keep growing, developing and pioneering the sport. We also feel it is important to connect and grow in unity, which is why we are establishing new partnerships in 2020, while retaining ones that have proved successful thus far."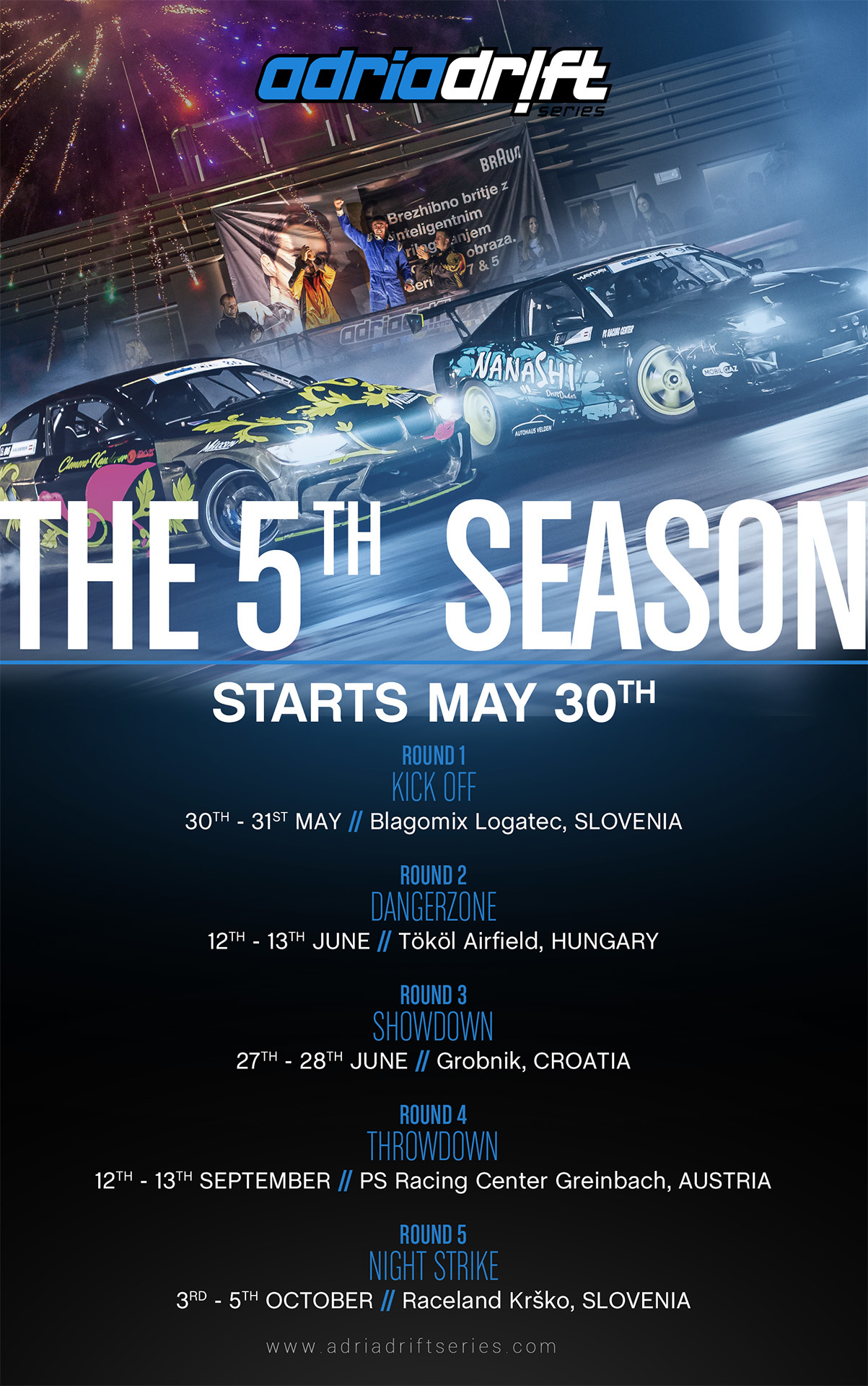 ROUND 1
The season opener is set to happen in Logatec, Slovenia, only this time in cooperation with Racegasmic Drift Cup. The up-and-coming Slovenian entry-level drift competition will be complemented nicely by Adria Drift Series' more powerful cars and more experienced drivers.
Tyres start smoking on May 30 and 31!
ROUND 2
As customary, our Hungarian round will be done in partnership with Drifted.hu. This year we are hitting the former Soviet airbase in Tököl mid-June. Once again, this high-speed track will take guts and precision and you can be sure there will be a whole army of local drivers trying not to let foreigners take away the victory.
ROUND 3
We are happy to announce our new partnership with Croatian Drift Challenge, a respected series now entering its second decade of operation. Many of our Adria Drift Series drivers have already tasted both glorious victories and bitter defeats in CDC and we are happy to join forces with the Croatian series to bring you an unforgettable event and rock Grobnik on June 27 and 28!
ROUND 4
Many of our drivers come from Austria - a full 16 in 2019 - and we were eager to give them a home race. We are elated to announce that on the 12th and the 13th of September, our Series will touch down at PS Racing Center Greinbach, the renowned track where some of the best drift battles go down every single year! Save the date and make sure not to miss this action-packed weekend!
ROUND 5
The spectacular season finale couldn't possibly be anything other than 32nd Drift Squadron's Night Strike event at Raceland Krško, set for the first weekend of October. A night race in Krško is just the perfect ending to any and every season and we're sticking to this tradition. Moreover, we're told there are some surprises awaiting us this year, meaning October 3-5, 2020, will be a real automotive Mecca for everyone in Slovenia and the neighbouring countries. If you're not hyped, you should probably see a doctor!
5 events, 4 countries, 3 new partnerships, 2 new locations and we will only crown 1 champion. Sounds simple enough, but there will be a whole lot of sweat, tyre smoke, broken body panels and door-to-door action while going sideways at incredible speeds to get there. 2020, bring it on!